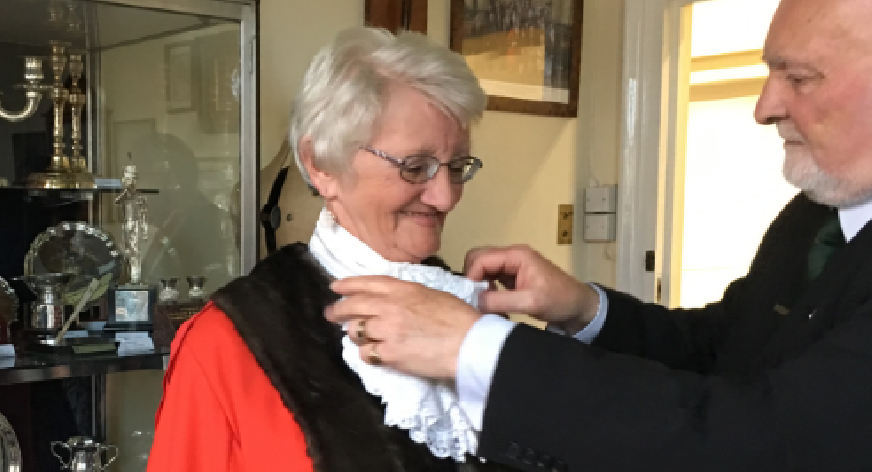 A new Borough Mayor and Council Cabinet have been elected at last nights Annual Council meeting.
Cllr June Tandy is the new Mayor, succeeding Cllr Chris Watkins. The Deputy Mayor is Cllr Bill Hancox.
Cllr Julie Jackson remains as Council Leader, serving the second of her four year appointment. The position of Deputy Leader has been taken by Cllr Neil Phillips, who takes over from Cllr Ian Lloyd.
Portfolio holders have been confirmed as Cllr Julie Jackson (Finance and Civic Affairs), Cllr Neil Phillips (Planning, Development and Health), Cllr Ian Lloyd (Arts and Leisure), Cllr Jill Sheppard (Central Services and Refuse) and Cllr Chris Watkins (Housing and Communities).
The new Borough Mayor, Cllr Tandy said:
"It is a great honour to be elected mayor of Nuneaton and Bedworth and I am really looking forward to the year ahead.

"I have chosen the George Eliot Serenity Garden as my charity – it's a very worthy cause that will make a positive difference to stroke and dementia patients. It seems a particularly fitting choice for this year, with 2019 being the Coventry and Warwickshire 'Year of Wellbeing'.

"The garden has been designed by students from Coventry University so it's very much a local project.

"I am hoping that my involvement will prove useful to the charity, both in terms of fundraising and in raising the profile of this very worthwhile cause."