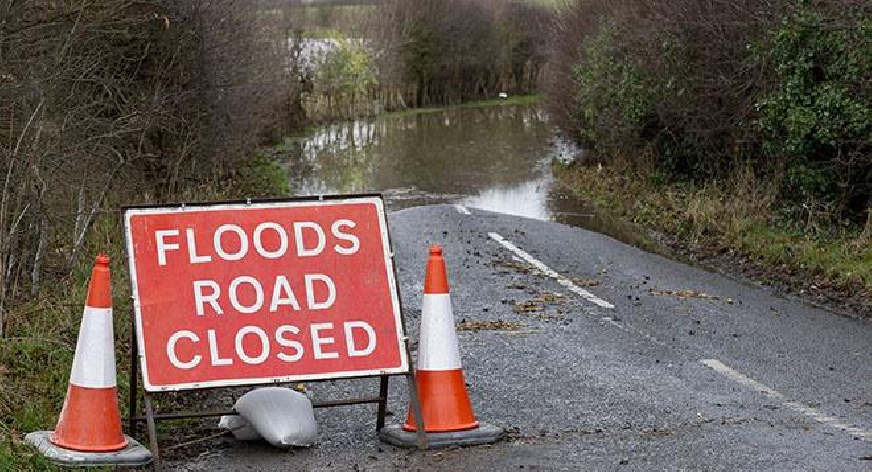 It's following Storm Dennis.
Firefighters, police and the Environment Agency are still working round the clock to tackle flooding in Leicestershire.
They're asking people to not drive through flood water.
The County Council highways teams had 130 reports over the weekend and 33 road closures following Storm Dennis.
Extra highways team were on duty 24/7 over the weekend helping to close roads and clear drains.
Flood warnings remain in place across Leicester, Leicestershire and Rutland – and residents are asked to sign up for alertsOpens another website in new window if they haven't already.
"Toby Willison, Executive Director of Operations at the Environment Agency, said: "Every home flooded is a tragedy for that family and our hearts go out to all those who have been flooded during Storm Dennis.
"Our teams will continue to work 24/7, alongside the Police, Fire and Rescue and local authorities to reduce the risk of flooding and keep communities safe.
"We expect disruptive weather into the middle of this week bringing a significant flood risk and there are flood warnings in place across much of England.
"Operational teams are out across England today. We have deployed temporary barriers and are operating 90 pumps across the country. We are also ready to operate our large flood defences as required, and so far we have protected nearly 20,000 properties from the impacts of Storm Dennis.
"With the effects of climate change, we are seeing more frequent periods of extreme weather. It is important for people to be aware of their flood risk and stay safe by signing up for flood warnings, making a flood plan and remembering not to drive or walk through flood water – it's not worth the risk."