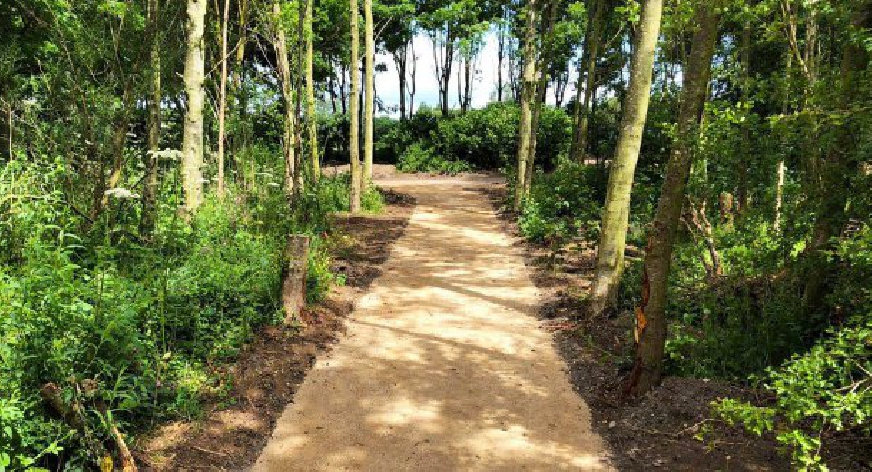 Improvements to the paths at a local wildlife area in Loughborough have been completed.
Charnwood Borough Council worked with Loughborough-based CR Civil Engineering to make improvements to Dishley Pond, a popular destination in Loughborough for fishing, running and walking.
Work on the project started last year when a two-kilometre path was widened and resurfaced to make it more accessible for visitors. Similar improvements to the final 500 metre path around the back of the pond were completed this summer.
Cllr Jenny Bokor, lead member for Loughborough visited the site and said: "The new paths around the pond not only look great but it's made it a lot easier for the fishers, runners and dog walkers to access the area.
"I'd like to thank all of our partners involved for their hard work and contributions to the project."
The Council invested around £30,000 in the project and CR Civil Engineering has donated a total of £40,000 in resources and equipment. idverde helped by clearing hedgerow and landscaping around the site. Green Gym volunteers offered their time by creating and installing new fishing platforms.
Carl Roberts, managing director of CR Civil Engineering, said: "We're pleased we've been able to come back and complete the work we started last summer.
"The team received lots of positive comments from members of the community while they were finishing the project and it's great to know so many people will benefit from the new paths. "
Dishley Pool is currently fished by the Loughborough Soar Angling Society.
Brian Hull, club secretary said: "We were delighted to be able to introduce CR Civil as partners for the construction of the new path. It will give both anglers and the public better access to this wonderful facility especially both the elderly and disabled."
Dishley Pond is at the north west edge of Loughborough and an important site for wildlife. It can be accessed from the Derby Road Playing Fields off Cotton Way in Loughborough.