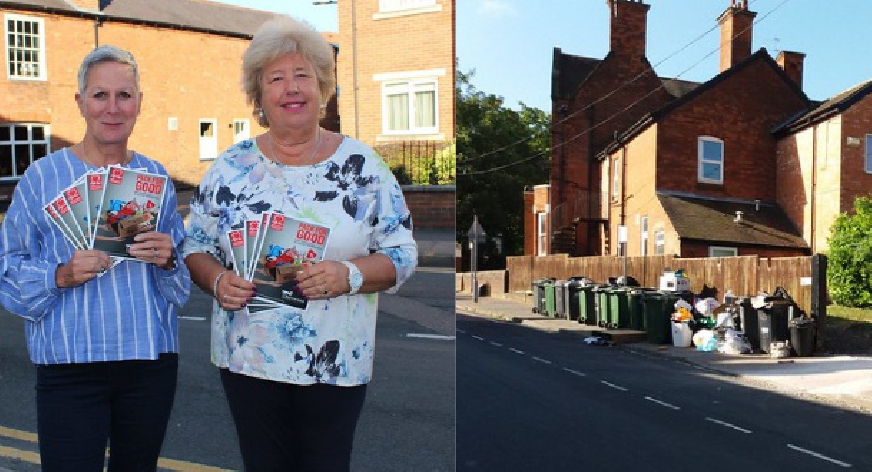 Students in Loughborough are being urged to get behind an end-of-term blitz on waste on Saturday, June 29 (2019).
Charnwood Borough Council and waste management partner Serco have joined forces with Loughborough University to organise the big clear-up in student areas of the town including Kingfisher Way and Storer Road.
The Council has also teamed up with the British Heart Foundation (BHF) for a third year, to join its Pack for Good campaign.
The campaign encourages students to recycle unwanted clothes, books, electrical items and more at BHF recycling banks. The items are then sold in BHF shops, to raise money for the charity. Throughout the summer last year, 2,188 bags of recycling were collected, over 17 tonnes of materials, which raised £30,632 for the charity.
Cllr Jenny Bokor, lead member for Loughborough, said: "We would encourage students to take notice of the campaign and make sure they recycle or dispose of their waste before leaving for the summer.
"We are proud of our town and want it to look immaculate for the summer. We know our student population will be having a clear out and we are doing this to help them.
"By working together we can make sure Loughborough looks clean and tidy."
Jenny Ardley, community warden at Loughborough University, said: "We want our students to remove their waste and recycle as much as possible and that's why the end of term clear-out is really important to the university. It is also great that students can support the British Heart Foundation by donating their unwanted items."
Around 2,000 student properties will be targeted during the event which gives people a chance to get rid of things they don't want to take home.
The event is held annually and coincides with the end of the academic year.
As part of the BHF Pack for Good Campaign, students will be offered one free recycling collection from the BHF, which they can use to recycle unwanted electrical items, such as toasters, hairdryers or kettles, which they may not want to take home with them.
Leaflets and BHF recycling bags will be being delivered to student properties in the run up to the clear-up event. Items should be placed in the bags and taken to the BHF recycling banks.
Alternatively, recyclable materials can be put in the green wheelie bin and waste in the black wheelie bin for collection. Anything that doesn't fit in the bin should be clearly labelled. Building waste or fixtures or fittings will not be collected.
Bins should be out for 6am on June 29.
If students have bulky waste to be collected, such as furniture, they should use the Council's collection service. Simply visit www.charnwood.gov.uk/special_collections.
For further information, visit www.charnwood.gov.uk/recycling or e-mail cleaner.greener@charnwood.gov.uk.
The six British Heart Foundation recycling banks are located at:
Radmoor Road park, Radmoor Road, Loughborough, LE11 3BP
St Peter's Community Centre, Storer Road, Loughborough, LE11 5EQ
George Deacon Court, Chestnut Street, Loughborough, LE11 3AF
Kingfisher Court, Kingfisher Way, Loughborough, LE11 3NY
The Hut, Old Ashby Road, Loughborough. LE11 4PG
Garendon Green, Garendon Road, Loughborough. LE11 4PG