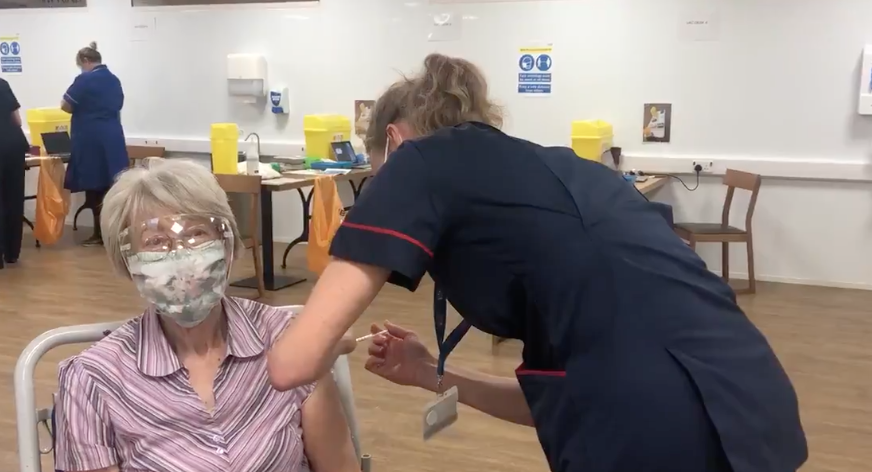 Anne Brookes from Shepshed was the first woman in the county to receive her jab in December.
Eligible patients are being invited to book COVID-19 vaccine this week.
If you are:
1) 70 years+ or
2) Clinically Extremely Vulnerable
You can book a slot in Leicestershire this week.
One thousand appointments a day are available for the next seven days and people who fit the above criterea are being encouraged to book as soon as possible.
You do not need to have been invited for a jab. You just need to be 70plus or extremely clinically vulnerable and have your NHS number.
The appointments will take place at Leicester Royal Infirmary, Leicester General Hospital, Glenfield Hospital and Loughborough Hospital (coming soon).
You can make a booking here:
https://www.swiftqueue.co.uk/leicesterc19v.php
You can find out more about vaccination in Leicestershire here:
https://www.leicestershospitals.nhs.uk/patients/covid-19-information-hub/covid-19-vaccination/
Photo ID and proof of eligibility (a current shielding letter) will need to be provided on arrival.
Please note that the second dose of the vaccine may be offered at another local vaccination site and not necessarily at the same site of the first dose.
The booking process
You will be taken to Swift Queue and asked to choose a preferred vaccination

site. Select your preferred location.

Enter the pin CovidVL19 when asked

Register as a new user – Please ensure you enter your NHS number (if you

do not know this, click here to find it).

Choose a date and time for your initial vaccination. The system will

automatically generate a second slot in 12 weeks.

Check your inbox and junk mail for an email that confirms your booking.
https://www.leicestershospitals.nhs.uk/patients/covid-19-information-hub/covid-19-vaccination/