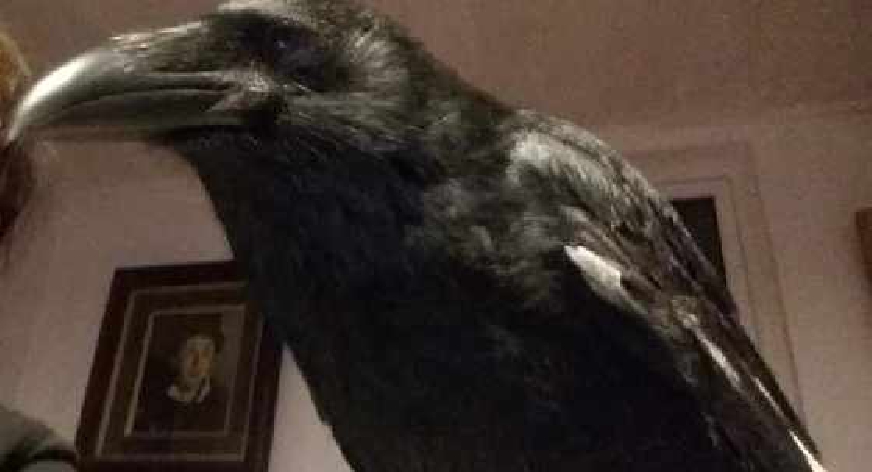 Eddie
A heartbroken Michelle Johnson was out feeding her 95 year old Aunt when thieves broke in and stole Eddie the crow.
Eddie was rescued from a Burbage primary school playground over a year ago. He was found crippled and abandoned by his mother. Michelle took him in as she had experience raising birds -- he has since become a much-loved pet.
'He's very tame,' she said. 'He can't fly so he wanders around the house. He seeks human company and goes to sit with the dogs - he's never slept a night outside.
'He is a much loved member of the family.'
Michelle thinks because he is so tame Eddie may have been sold as a pet.
'You'd be surprised the amount of people who offered to take him off my hands if I didn't want him.'
The reward was initially set at £1,000 but Michelle said she has received a donation from a fellow bird-lover.
'A 93 year-old gentleman has upped the reward by £500 for any information that leads to the return of Eddie.'
Police said they're investigating a burglary at an address in New Road between 1.30pm and 3.30pm on Monday 11th January. Jewellery and other items were taken but eventually recovered. For Michelle however, she just wants Eddie Back.
She said, 'The police have been brilliant. They called me the next day and said they'd found some of my jewellery.
She went on to say, 'I'm not really interested in the other stuff that was taken, I just want my pet back.'
'For me it's just like somebody stealing a dog or cat'
A 47-year-old man has been charged in connection with this incident. William Wallace, of Leicester Road, Market Harborough was charged with burglary dwelling and theft and is due to appear at Leicester Magistrates' Court and appeared in court of Wednesday.
A 54-year-old man from Leicester arrested by police has been released on bail. A 39-year-old woman from Leicester who was also arrested has been released with no further action.
Officers believe that more than one person was involved.
Detective Sergeant Fraser Macintosh, from Hinckley and Blaby CID, said: 'I would like to speak to anyone who has footage of men acting suspiciously in or around New Road on Monday afternoon.
'This could be either from a video doorbell or CCTV you have installed at your address. I would also like to speak to anyone who saw men knocking on doors in the area.
'Any information you can provide could help our investigation.'
You can pass on information online by visiting https://www.leics.police.uk/ro/report/ocr/af/how-to-report-a-crime/ and quoting reference 21*18355.