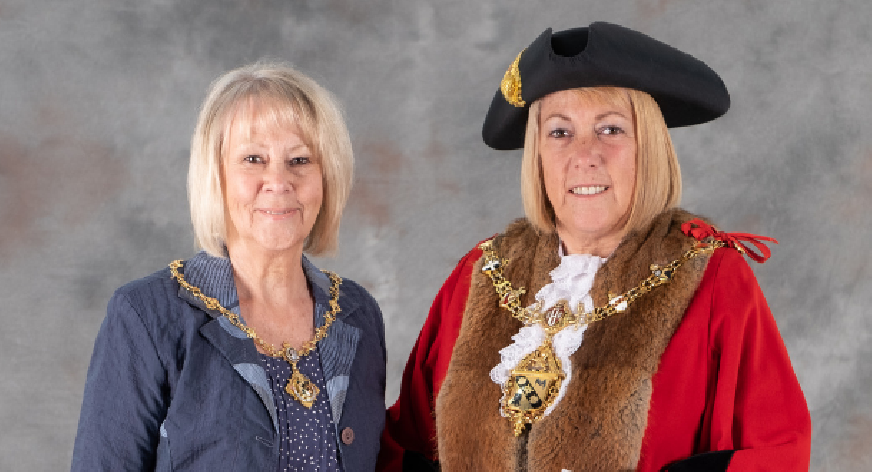 A former window dresser turned mature student is now learning a few new skills as Mayor of Charnwood
Cllr Brenda Seaton was appointed as the borough's first citizen on Monday night (May 20) at the council's annual meeting at Loughborough Town Hall.
The Mayor will attend hundreds of events over the coming 12 months with her Mayoress, sister Helen Johnson.
The Mayor said: "I am proud and honoured to serve as the Mayor of Charnwood. I am looking forward to the year ahead and meeting some of the wonderful people around the borough.
"Being the Mayor is a great opportunity to see how people, groups, and businesses are making a positive contribution to Charnwood."
Cllr Seaton was born and raised in Birstall and has lived in Thurmaston for over 30 years. After leaving school aged 15, Cllr Seaton worked as a window dresser and cashier before moving into retail.
At the age of 35 she went back to school to study eight GCSEs, followed by NCQs, A-levels and then a degree with the Open University. She later worked at Longslade Community College in Birstall as a specialist maths teaching assistant and a special educational needs co-ordinator.
Cllr Seaton has been a borough councillor for 12 years, is also a serving Leicestershire county councillor and has been a Thurmaston parish councillor for 17 years.
Her chosen Mayoral charity is Dementia UK's admiral nurse service. Admiral nurses provide specialist dementia support for people with dementia and their families.
Cllr Seaton's appointment marks the end of the Mayoral year for Cllr Christine Harris.
Cllr Harris said: "I have thoroughly enjoyed my year of office and I have met some extraordinary people. It has been a privilege to serve the borough as Mayor and I would like to thank my mayoress, Cynthia Bradley-Stevenson for her support. I would also like thank the people who given both myself and Cynthia a warm welcome at many events over the year. We wish Brenda and Helen all the best as they take on the chains of office."
Cllr David Snartt has been elected as Deputy Mayor and will be supported during his year of office by his wife, Deputy Mayoress Joan Snartt.