win107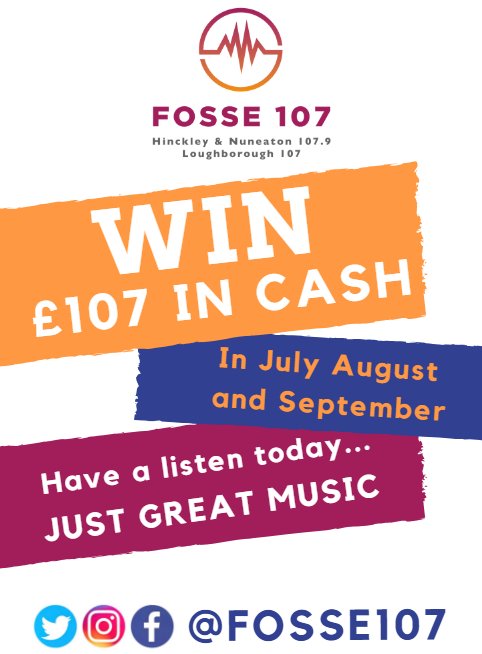 Hi and welcome to Fosse 107, the fact you're here means you've seen one of our flyers and would like a chance to win £107, well it's really easy...
Please fill in the form below, just once and you will be entered into our random draw.
Whilst you're here please have a look around the website and find out more about your local radio station.
Better still please give us a listen on 107 FM across Loughborough and Charnwood, on 107.9 FM in Hinckley and Nuneaton and South West Leicestershire and online, both through this website and on Tune In.
We are a truly independent commercial radio station, locally owned and run/produced by a team who are dedicated to giving you something different to other stations.
We're not part of a group so can spend more time on air talking about where you live, supporting local charities and organisations and brining you local news and travel information, we cover travel every 20 mins at Breakfast and on your way home from 4pm.
Please do email studio@fosse107.co.uk if we can help you with publicity and remember if you have an event it's free to add to our guide www.fosse107.co.uk/events/
We also play a wide variety of music as well, with specialist shows during the week, see what we have here… www.fosse107.co.uk/on-air/schedule/
Fosse 107 Team - Playing "Just Great Music"
Terms and Conditions
Entries are accepted 1st July to 30th September.
Each winner will be notified and paid withing 28 days of the end of each month of the competition.
Your details will ONLY be used to contact you with news that you are a winner.
At the end of September all entries will be deleted.
You will need a telephone number or email to enter so we can contact you.
You only need to enter once, if you enter before the end of July you will be in all 3 draws. Enter in August and you will be in August and September, enter during September and you will be in just that draw.
Any family members and staff of Fosse 107 may not enter.
By entering you agree to being photographed and that photo being used on our website and on our social media.
This is a free to enter competition, to enter you will need the code from our promotional flyers.