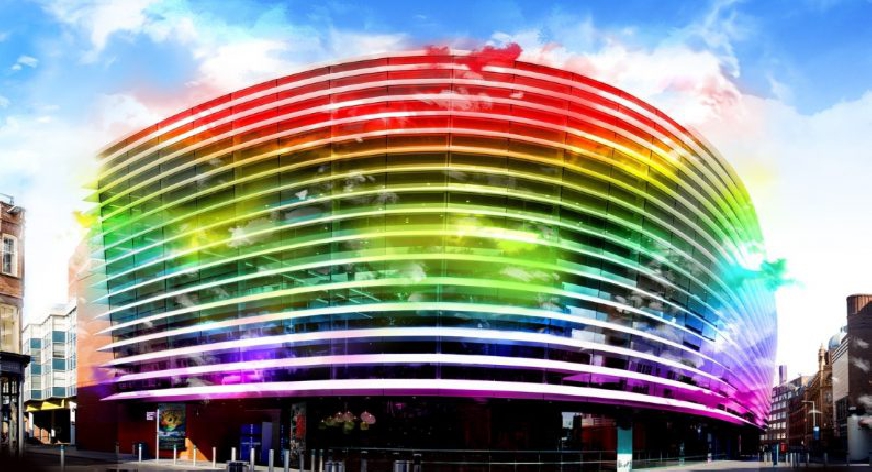 Socially distanced audience members will sit around four sides of the stage when Leicester's Curve Theatre reopens in November.
The theatre, which was forced suddenly to close its doors to the public on 16th March, will open again this autumn for spectacularly re-imagined, socially distanced concert performances of acclaimed Made at Curve productions, using the building's unique theatre design.
By raising the walls between its theatre spaces, Curve will reopen as a 533-seat socially-distanced auditorium, with audiences enjoying live performances from all four sides of the stage.
A triple-revolve, donated by Sir Cameron Mackintosh, will help to transform the space to create an epic experience for audience members.
The season will officially launch on 12th November with an exclusive event which will be live-streamed from the theatre.
Curve says it's reopening plans are only possible due to grant funding received from the government's Culture Recovery Fund and the ongoing support of Arts Council England and Leicester City Council.
Curve will begin welcoming audiences back with a Family and Community Day on Saturday 14th Nov. The socially distanced day will include a range of low cost and free workshops, performances and activities for all ages from Midlands artists and theatre companies. All events will be ticketed and must be booked in advance.
Speaking about the plans, Chris Stafford and Nikolai Foster said: "Although we have a long road to recovery ahead of us, we are delighted to announce a new programme of work which will reopen our theatre after seven long months of closure. The team at Curve have worked tirelessly on plans to enable us to safely reopen our theatre with social distancing. Curve's unique architecture has always demanded a bold response in whatever we do, and we are proud to present these performances in our newly configured, socially-distanced, in-the-round theatre which merges our Studio and Theatre into one performance space."
To ensure audiences are able to safely enjoy a return to Curve, the theatre has introduced a number of new measures throughout its building, including a one-way system, additional cleaning and temperature checks before entry to the building.