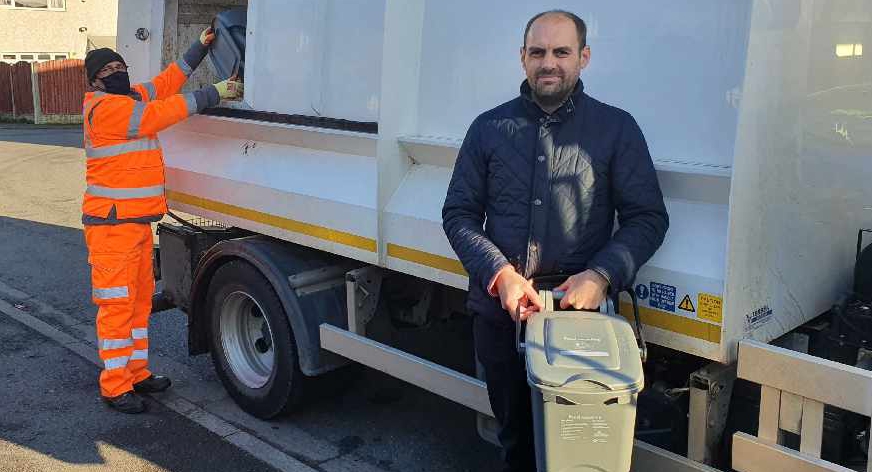 Credit: North West Leicestershire District Council
North West Leicestershire District Council is expanding its food waste collection trial to a further 2000 households in parts of Coalville, Ravenstone and Whitwick.
The existing trial in Measham and its surrounding villages resumed last week after being paused in March 2020 due to the coronavirus pandemic.
The new trial in and around Coalville will begin during the week commencing Monday 16th November. Residents are in the process of receiving information regarding the trial, along with their annual waste collection calendars.
During the trials, all food waste – including plate scrapings, bones, meat and tea bags will be collected weekly from homes, in addition to the usual fortnightly recycling collections.
The food waste will be taken to a Biogen processing plant in Atherstone, Warwickshire where it will go through an anaerobic digestion process. The process creates biogas which can be used to generate electricity and heat, and a bio fertiliser for use on local farmland.
The council's first food waste collection trial began in November 2019 for 2000 households in and around Measham. During the first trial period, over 40 tonnes of food waste was collected and recycled.
Joan Cox is one of the 2000 residents on the new trial in Coalville. Joan said: "It's great news about the food waste trial expanding to Coalville. Although I don't waste much food it will be good to know things like my vegetable peelings, grape stalks and chicken bones will be recycled.
"Hopefully the trial goes well and the council can offer food waste collections to everyone in the district."
The trials are part of NWLDC's Recycle more… plan, which aims to increase the district's recycling rate to 50%.
The recycling rate in North West Leicestershire is currently 45%. Around one third of all waste in black bins in the district is food – most of which is currently sent to landfill.
Councillor Andrew Woodman, Portfolio Holder for Community Services at NWLDC, said: "We're extremely proud to be expanding the food waste collection trial to a further 2000 households in Coalville.
"Food waste releases harmful gas emissions when it breaks down in landfill. The trials will provide people with a more sustainable option for disposing of their food waste.
"The progress of the trial in Measham pre Covid-19 was really pleasing and teams across the council have worked tirelessly to bring the food waste collections back. Hopefully we can pick up where we left off and help people to divert even more waste away from landfill."