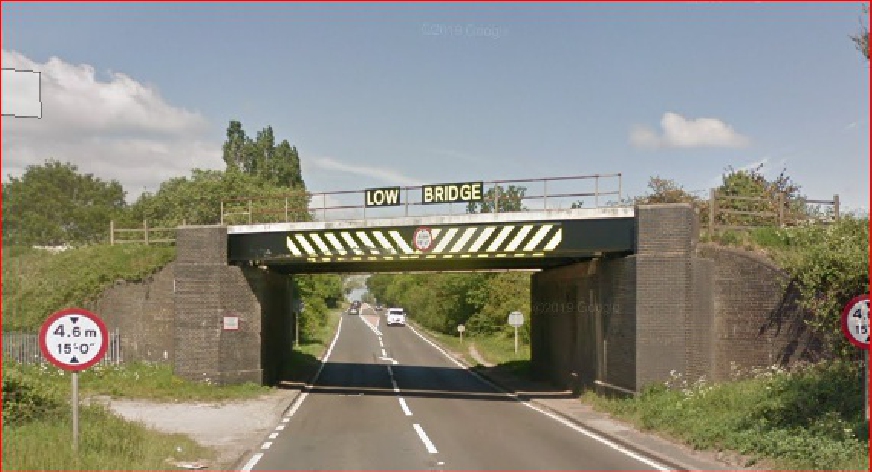 The bridge on the A5 between Sketchley Meadows and Dodwells Island is the "most bashed" in Britain.
Network Rail has revealed the bridge on the A5 in Hinckley is the most-struck bridges in the country.
The bride on Watling Street, not far from the Lime Kilns was hit 25 times between 1 April 2019 to 31 March 2020.
It has prompted Network Rail to launch a campaign to reduce the number of vehicles colliding into bridges which cause delays and safety risks.
Network Rail said : "We've worked with industry bodies – including Highways England and the Driver and Vehicle Standards Agency (DVSA) – and hauliers for years. This has led to a Bridge Strike Prevention Group to ensure companies and their employees have the knowledge and tools they need to avoid striking bridges."
Bridge strike incidents fell by 11% to 1,714 between 1 April 2019 to 31 March 2020but they remain a dangerous and costly concern.
Sir Peter Hendy CBE, chair of Network Rail, said: "We've done a lot of work with partners across the industry in recent years to tackle bridge strikes, and whilst it's encouraging to see our work is paying off with numbers now on the decline, there's a lot more to be done to cut the unnecessary delays, costs and safety risks they pose."
In November and December, reminders to 'Wise Up, Size Up' will feature on petrol pumps at motorway service stations across Britain along with posters, reminding drivers to check their routes before setting off.
Senior traffic commissioner Richard Turfitt issued a latter last month to all goods vehicle and public service vehicle (PSV) operator licence holders. It warned regulatory action, which could result in the loss of their operator's licence, was real possibility should they fail to take appropriate control measures to prevent bridge strikes.
The letter says operators should:
Assess the risks and ensure that routes are planned in advance, so far as is reasonably practicable
ensure that drivers, transport managers and planners are properly trained to enable them to assess the risks
ensure that drivers are be provided with adequate information including about the vehicles which they are driving.
In providing information that allows anyone planning or altering a route, operators should consider how to:
ensure that drivers have access to height conversion charts
ensure that sites have height measurement gauges
ensure that each vehicle and trailer in the fleet has an established running height on its technical record
ensure that running heights are available to anyone planning a route including drivers who encounter unexpected or unmapped obstructions, such as temporary works.