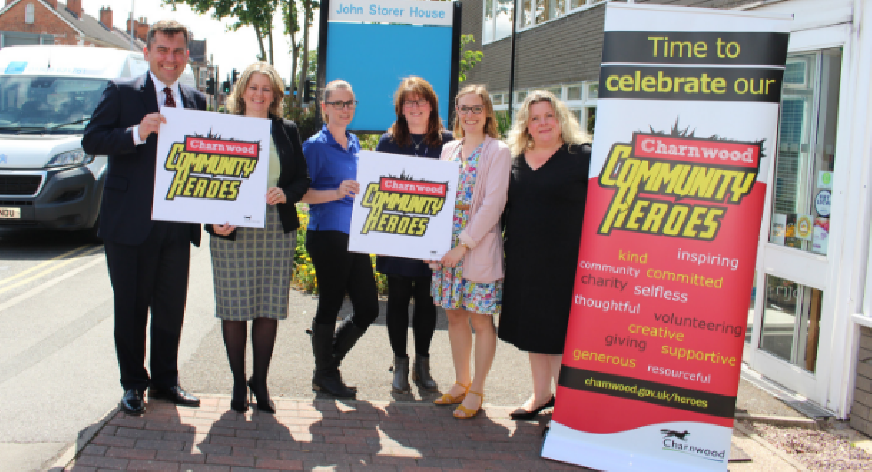 Residents are being urged to enter nominations for Charnwood Community Heroes 2019.
The awards, run by Charnwood Borough Council, are a chance to thank people, groups and organisations who have carried out a good deed – no matter how small or large – in our community.
It could be someone who has helped a neighbour, raised funds or is always there for others. Or it could be a group, organisation or business which has carried out some excellent work in the past 12 months.
This year's awards are being kindly supported through the council's collaboration with EEM, a not-for-profit procurement company. It has awarded the Council a community contribution which is being used to support the event.
Charnwood Community Heroes is also supported by John Storer Charnwood, an independent charity serving the communities of Charnwood with a range of activities, and Sure Maintenance, the Council's gas contractor.
There are nine categories to enter plus the Harry Cook award which will be presented in memory of the Loughborough in Bloom stalwart.
Everyone nominated will receive a Charnwood Community Heroes Award and be invited to our special presentation on Saturday, September 14, 2019 at John Storer House in Loughborough.
All we need is for people to nominate their heroes.
Cllr Deborah Taylor, lead member for communities at Charnwood Borough Council, said: "Charnwood Community Heroes is a great way to say thank-you to someone who has made a positive difference in our borough.
"It could be something quite simple or a long-term project but what's important is that their efforts have benefitted others. It's also important that we recognise those efforts and our community heroes awards are the perfect way to do that.
"We've got a variety of categories and the presentation is an up-lifting event as it showcases how much good work is going on in Charnwood.
"Please put forward your nominations today."
Rebecca Dermody-Simmons, head of operations at EEM said: "Our mission is to help our members make a difference to the communities they serve, so we are delighted that Charnwood is using our donation to support an event which recognises community heroes in the local area."
The nine open categories are Young Hero (sponsored by Sure Maintenance); Super Trooper; Good Neighbour; Inspiring Others; Green Hero; Business Community Action; Top Team; Beyond the Call of Duty; and Brilliant Board/Trustee Member.
The Harry Cook Award will be awarded to someone who has made an outstanding contribution to the community. It will be chosen by Harry's family. Harry, along with wife Pat, was heavily involved in Loughborough in Bloom and their floral home not only featured on the bloom judging route but also on BBC Gardener's World. Harry sadly died last year.
People can nominate and find out more visiting www.charnwood.gov.uk/heroes.
You can also keep up to date with the latest Charnwood Community Heroes news by following the Council on Twitter @CharnwoodBC and look for the hashtag #CharnHeroes. Or visit the Charnwood Community Heroes Facebook page www.facebook.com/CharnwoodCommunityHeroes