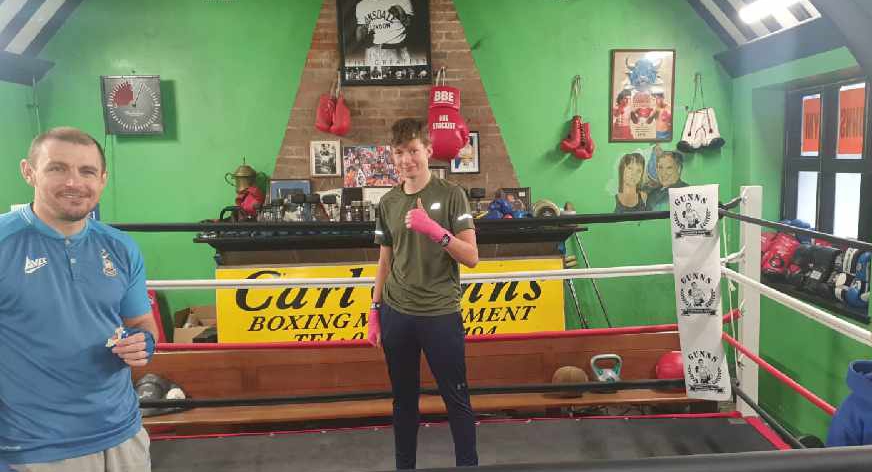 Andy Pirie with Bruno Bosson
Retired professional boxer, Andy Pirie, has lent his weight to the campaign to save Birstall Boxing Gym.
The 36-year-old former middleweight visited the gym in a final push to support owner Carl Gunns' efforts to raise £10,000 by the end of the month to save the centre.
Since March visitor numbers have declined by as much as 92 per cent as a result of the necessary restrictions imposed by the Government to curtail the coronavirus pandemic.
Last month Carl announced he would be forced to close the gym's doors unless he could raise £10,000 by the end of November to pay the bills and set up a trust to secure its future.
So far £6,000 has been raised.
Mr Gunns said: "The support we have received has been tremendous. So far over half the amount has been raised with just £4,000 outstanding.
"The threat of closure has touched so many people and I am grateful to Andy for travelling from his hometown of Scunthorpe to raise the profile of the appeal in this last push to save the gym for future generations."
Since opening 19 years ago the gym has seen thousands of youngsters pass through its doors.
Carl added: "I opened 19 years ago, never as a money-making venture but to give ordinary children something to do.
"I'm an ordinary guy who has led an extraordinary life. I've been in the company of Muhammad Ali and met so many people through boxing. It's important to give something back, you can't keep taking things. There are a lot of people who need help out there."
Andy said: "I spent 12 years as a boxer and 12-months as a professional. I didn't take it up until I was 26 and my only regret is that I didn't start younger.
"I know what a gym like this can bring to the children in the community. At this level, the coaches are volunteers working to bring together children from all backgrounds and support their physical and mental health.
"Coronavirus restrictions have made it difficult for clubs like this to keep youngsters motivated. The restrictions limit what can be done, and people stay away because of this."
Despite this owner Carl supports the "necessary" second national lockdown. He said: "People's lives are more important than boxing and money. These measures are necessary to protect lives so I fully support the steps being taken to safeguard everyone."