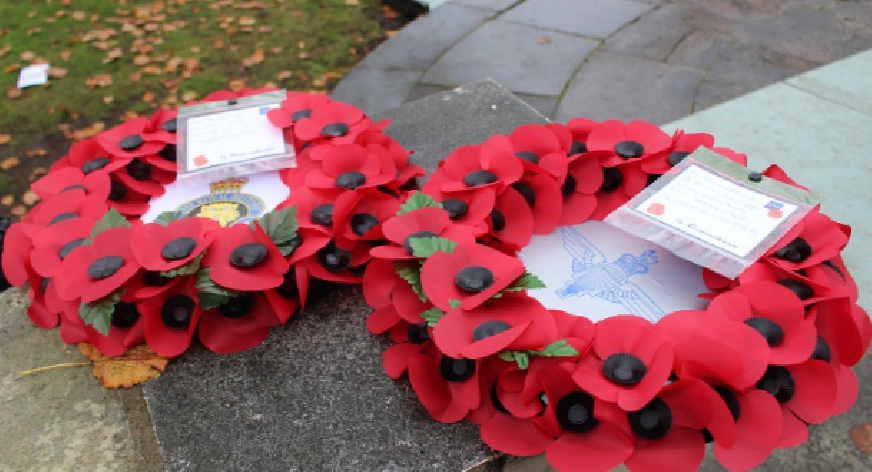 Leicestershire's County Hall and the Stand Easy memorial will be lit up in red.
Leicestershire County Council is also publishing a short film in which the Lord-Lieutenant and council chairman, Pam Posnett MBE, lay a wreath at the memorial on behalf of all members and officers.
Residents are being encouraged to stay at home this year and find other ways to honour those who served and sacrificed themselves in the line of duty.
Nick Rushton, leader of Leicestershire County Council said: "The sacrifices of those who were injured or lost their lives will never be forgotten.
"And this year, although we cannot pay tribute to the fallen in person, we can express our gratitude and support in a number of different ways.
"The pandemic brings into even sharper focus the freedoms we enjoy today. Although we're not able to mark the contribution of those brave men and women at Remembrance events, I'd encourage everyone to play their part from home."
Last year, almost 30 buildings across the city and county joined with County Hall to light up their buildings. Those taking part last year included churches, war memorials, office buildings, community centres and pubs.
Mike Kapur OBE, Lord-Lieutenant of Leicestershire said: "This year, more than ever, it is important for us to find alternative ways to honour those who gave their lives in conflict, as we cannot meet for our traditional parades and services. I hope that by illuminating some of our buildings in the city and county it will provide a simple but powerful expression of our community's support for the Poppy Appeal."
The short film has been pre-recorded in place of the event held usually held at County Hall's Stand Easy memorial to mark Armistice and pay tribute to the fallen.
The film, which will also include the Last Post, two-minute silence and Reveille, will be available on our YouTube and social media channels.
Pam Posnett, chairman of the county council said: "Although we are not able to come together to mark Armistice in the usual way, it is important that we can still remember and honour the sacrifice of those who gave their lives for the freedoms that we take for granted. It is an honour for me to be able to take part in this small act of remembrance and share it online.