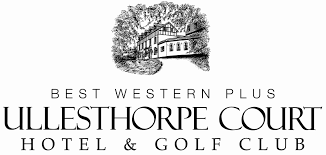 Everyone says that your wedding day should be the best day ever so our friends at Ullesthorpe Court have compiled a list of things to think about as you prepare to say I do..
1. Budget
Keeping to your budget is important because it will ultimately make you feel more relaxed about your special day rather than worrying about the cost. Make sure you make a list of all the "needs" and "wants" and see what you can afford. Many venues offer reduced packages for mid-week weddings and Sunday ceremonies too.
2. Venue

Choosing where to get married is one of the key decisions you will make. Think about what is important in a venue. At Ullesthorpe Court Hotel we operate a one wedding per day promise, so there's no chance you'll bump into another bride on your wedding day.
3. Make use of friends and family
There are normally helpers who want you to have the best day ever - so take them up on their offer of help to relieve the burden of planning. Don't be afraid to ask for help, people will be honoured to have a role in your special day (and that will make it more special).
4. Should we invite children?
You shouldn't feel guilty about the decision you make here. People will understand. Make a decision and stick to it.