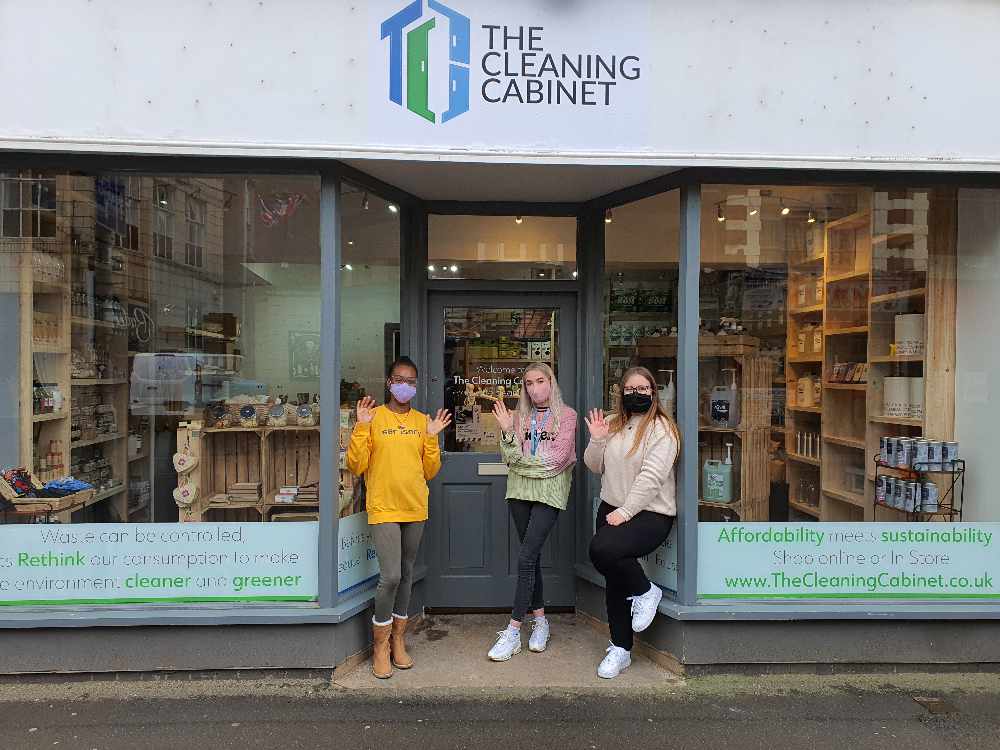 Want to be more "green" in 2021?
We've teamed up with our friends at The Cleaning Cabinet in Loughborough to get the low down on a more sustainable lifestyle.
Tunde who set up the business on Baxtergate in Loughborough has given us his top tips...

Loughborough's brand new The Cleaning Cabinet store
First of all, keep and use up what you have until it cannot be used again. Being sustainable should be gradual, it is not helpful to you or the environment if you get rid of everything in your cleaning cabinet when they have not been used up. Anything you throw away will still impacted the environment one way or the other, so you might as well make sure you use it up.
Your sustainable journey begins when replenish your everyday items for a sustainable alternative.
1. Refuse
Refuse excessive packaging especially plastic items such as plastic cutlery, shopping bags etc.
2. Reduce
Reduce your waste, it is possible to live on less. Buy what you need in bulk if possible to save on multiple journeys to the store. Bulk buys are cheaper than smaller purchases, so you will save on the long run.
3. Reuse
Reuse what you have. Many of the things we have can be reused by yourself or someone else, from old clothes to your shampoo bottle. By reusing, you would have prevented another unwanted packaging, container and all the logistical environmental pollution involved. For example, we reused old boxes for our online orders and very soon, we will be shredding old boxes as be used as void fillers.
4. Refill
Refill your cleaning, personal care items and food jars. By refilling home containers directly at the store for as long as they last, you will also be preventing the introduction of new plastic containers into the environment. Many zero waste store let you refill body lotion, shampoo and conditioner, shower gel, washing up liquid, bathroom, kitchen floor and all purpose cleaning solutions, sanitising gel, laundry liquid and powder and a wide variety of dry food.
5. Recycle
Recycle anything that cannot be reused or composted. Make sure you know how to clean the water out so that it is definitely recycled. For example, a food stained plastic milk bottle cannot be recycled because the food waste remaining it is seen as a contaminant. So, learn about recycling too.
FIND OUT MORE: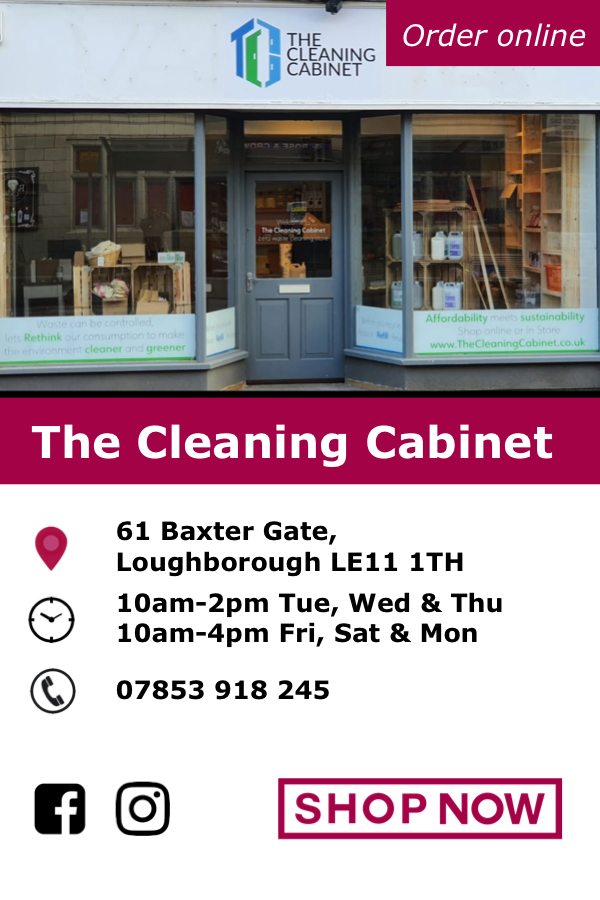 Tunde and his wife set up The Cleaning Cabinet which started as a market stall at Loughborough Market on a Saturday and has grown into a huge online success. We spoke to Tunde about moving from the market in the middle of a global pandemic and his hopes for the future.
.
Staff stocking the new store of The Cleaning Cabinet in Loughborough
How did The Cleaning Cabinet start? The Cleaning Cabinet was born on the 16th of September 2019, with an online store, then Tunde and Ati sold their refills and eco-friendly wares on Loughborough Market. In February 2020, they spotted a small at Carillon Court shopping centre in Loughborough.
Growing the product range means a new, bigger premises in 2021?
Tunde outside his new shop on Baxtergate, Loughborough
"We have ran out of usable space at our 4 meters square kiosk as we are now entering the fabulous world of zero waste food refills where we will be selling dry food such as oat, fruit and nuts, spices etc, which will help us to grow our range of everyday products to the same level of an average grocery store. We have decided to open a bigger shop on 61 BaxterGate in Loughborough, it is funny because it is yet during another Lockdown but we will not be discouraged."