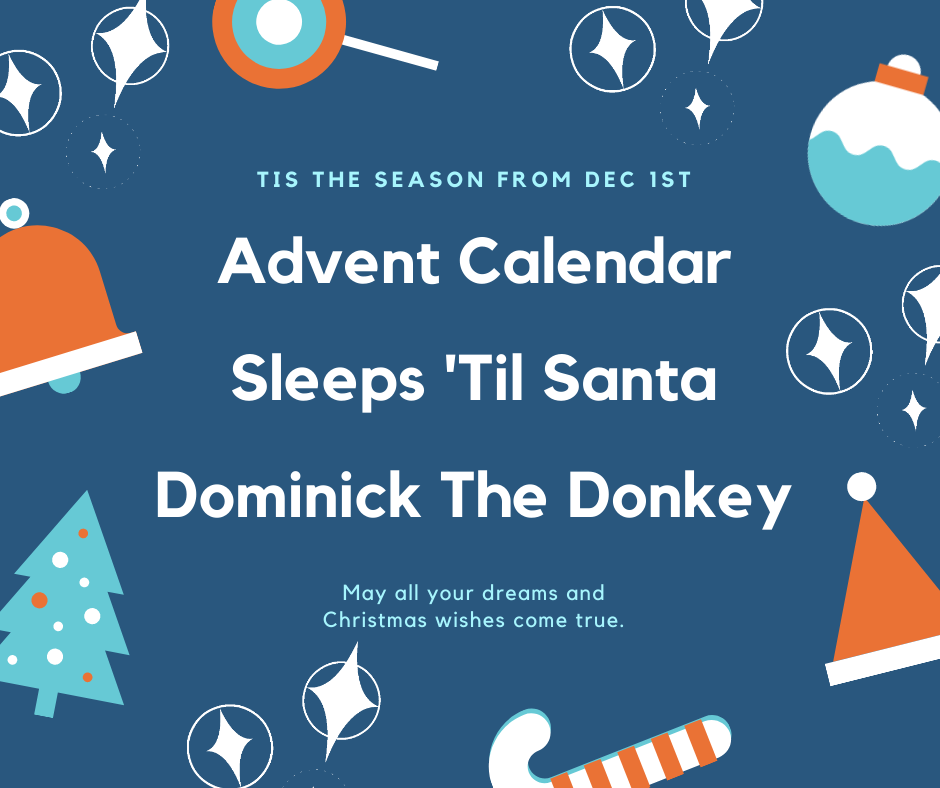 Sleeps Till Santa is back for another Christmas, and Santa has asked Mark on Breakfast to help get the you ready for another festive season, and you can join the fun!
We need everyone to join in each morning to count down the days until the big man himself turns up on his sleigh to deliver the presents.
The countdown is on every weekday morning with Mark at around 8;15, so don't be late! And remember Dominick the Donkey will be back as well just after Sleeps for another sing along each day!
LYRICS
SLEEPS 'TILL SANTA
x more sleeps to go,
x more sleeps 'til Santa,
x more sleeps 'til the big fat fella
comes down your chimney
and brings you presents
and drinks your beer,
x more sleeps 'til Santa
x more sleeps to go,
x more sleeps 'til Santa,
x more sleeps 'til the big fat fella
comes down your chimney
and brings you presents
and drinks your beer,
x more sleeps 'til Santa
x more sleeps to go,
x more sleeps 'til Santa,
x more sleeps 'til the big fat fella
comes down your chimney
and brings you presents
and drinks your beer,
x more sleeps 'til Santa
DOMINICK THE DONKEY
Hey, chingedy ching, hee haw, hee haw
It's Dominick, the donkey
Chingedy ching, hee haw, hee haw
The Italian Christmas donkey
La, la, la, la, la, la, la, la, la
La, la, la, la, la, la, ladioda
Santa's got a little friend, his name is Dominick
The cutest little donkey, you never see him kick
When Santa visits his Paesans with Dominick he'll be
Because the reindeer cannot climb the hills of Italy
Hey, chingedy ching, hee haw, hee haw
It's Dominick, the donkey
Chingedy ching, hee haw, hee haw
The Italian Christmas donkey
La, la, la, la, la, la, la, la, la
La, la, la, la, la, la, ladioda
Jingle bells around his feet and presents on the sled
Hey, look at the mayor's derby on top of Dominick's head
A pair of shoes for Louie and a dress for Josephine
The label on the inside says they're made in Brooklyn
Hey, Chingedy ching, hee haw, hee haw
It's Dominick, the donkey
Chingedy ching, hee haw, hee haw
The Italian Christmas donkey
La, la, la, la, la, la, la, la, la
La, la, la, la, la, la, ladioda
Children sing and clap their hands and Dominick starts ta dance
They talk Italian to him and he even understands
Cummares' and Cumpare's do the dance a tarentell
When Santa Nicola comes to town and brings il ciucciariello
Hey, chingedy ching, hee haw, hee haw
It's Dominick, the donkey
Chingedy ching, hee haw, hee haw
The Italian Christmas donkey
La, la, la, la, la, la, la, la, la
La, la, la, la, la, la, ladioda
Hey Dominick, Bouna Natale
Hee haw, hee haw, hee haw, hee haw, hee haw