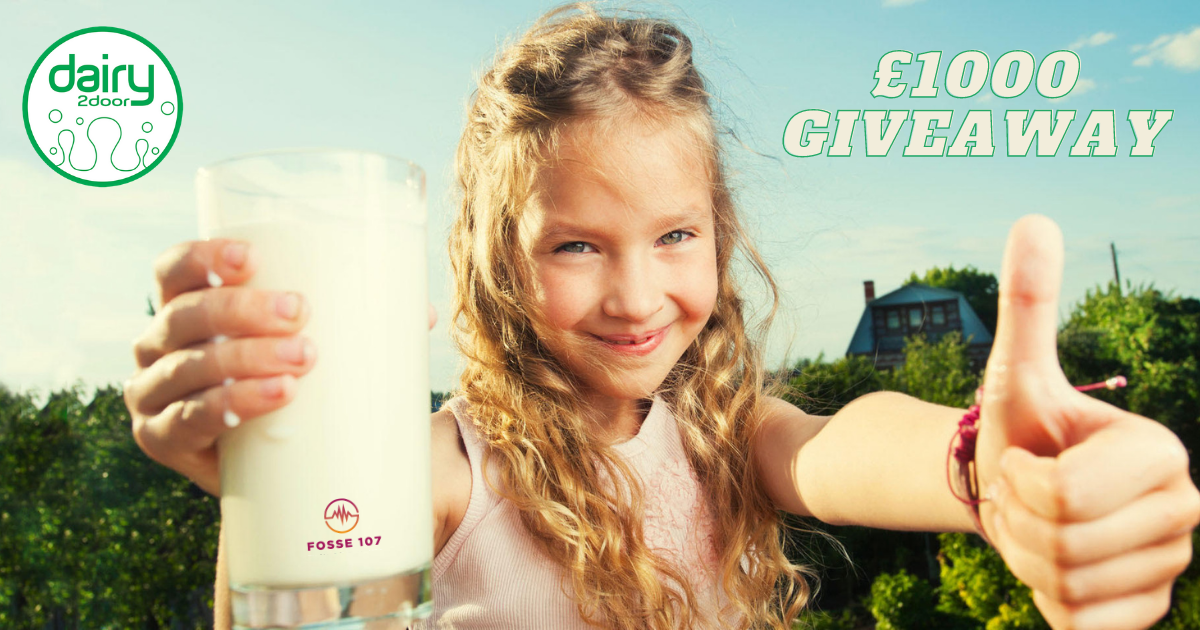 Get fresh milk and so much more delivered to your door, no minimum order & no delivery charge
IT'S BEEN WON
Thanks for playing, Pat Sheppard was the winner, he says they might put it towards their new windows and might treat themselves to a meal out.
Here's what happened when we made the call to tell Pat he'd won...
What would you spend £1000 on this summer? Thanks to Dairy 2 Door you might have to think hard about doing just that if you win our new competition. One winner will win the £1000 to themselves.
We've got 15 different songs for you to recognise over 3 weeks, you could enter 15 times, if you think you know them all, or just once if you only get 1 of them.
Listen anytime from Breakfast at 6 until Midnight Monday to Friday between the 22nd June and Friday 9th July, you'll hear one of Dairy 2 Door's milkmen humming a tune once you have just come back here and enter your guess below. It's as simple as that.
We just need the name of the song, don't worry about the artist.
About Dairy 2 Door
Dairy2Door is a Leicestershire-based, Milkman/delivery service offering a fantastic range of Milk, Groceries and fresh produce sourced from farmers and producers locally.
Since 1999, Company Director Jason Joyce has worked in the milk industry for a variety of companies as a milk man, holiday cover, supervisor, franchisee, manager, and now owner
of his own company
Two years after starting his role as a milkman, Jason finished third in a national milkman competition with over 10,000 milkmen nominated.
Dairy2Door was founded in 2015 and continues to thrive and provide the local community
with quality milk.
Keeping alive the great tradition of the Milkman, delivering to your door on a regular basis
whilst also supporting our British dairy farmers.
We now deliver pints of Milk In "GLASS BOTTLES" as well as Plastic & good's throughout Leicester & Leicestershire. We have also invested heavily in Low Emission vehicles. We deliver Twice a week, free of charge.
Most recently we have received a care in the community award for our services during lockdown.
Contact
Website:dairy2door.com
Call: 0116 436 2452
Address: Unit C2, Optimus Way, Leicester LE3 8JR
Email:
General: accounts@dairy2door.com
Sales: dairy2door@gmail.com