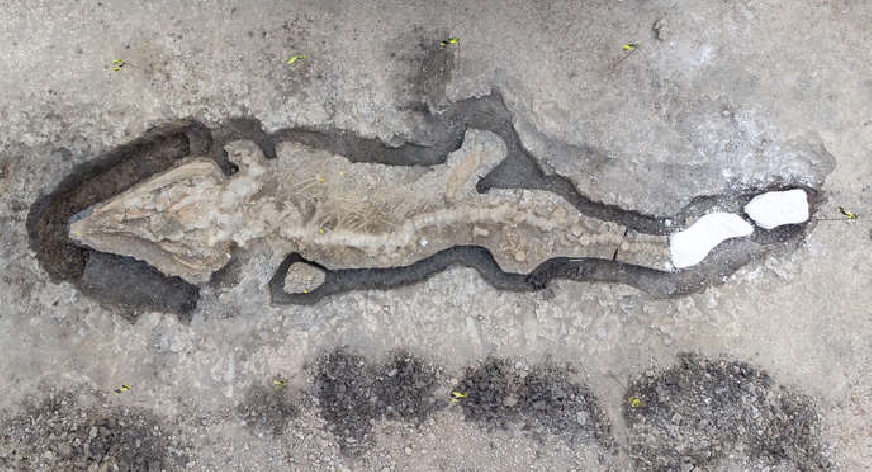 The skeleton of the ichthyosaur. Credit: Leicestershire and Rutland Wildlife Trust
This is a huge palaeontological discovery.
The fossilised remains of Britain's largest ichthyosaur, colloquially known as a 'Sea Dragon', has been uncovered at Rutland Water Nature Reserve.
It is the biggest and most complete skeleton of its kind found in the UK and it is also thought to be the first ichthyosaur of its species (called Temnodontosaurus trigonodon) found in the country.
The Sea Dragon was discovered by Joe Davis, Rutland Water Conservation Team Leader, back in February 2021.
Joe and Reserves Officer Paul Trevor noticed what looked like clay pipes sticking up out of the mud.
Joe Davis, said: "they looked organic. I worked out on the Hebrides, so I've found whale and dolphin skeletons before. This appeared similar and I remarked to Paul that they looked like vertebrae. We followed what indisputably looked like a spine and Paul discovered something further along that could have been a jawbone. We couldn't quite believe it."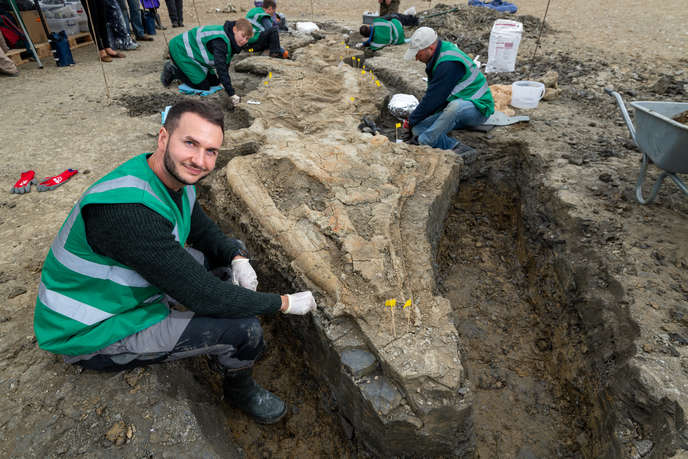 Previous image
Next image
The ichthyosaur is approximately 180 million years old and the skeleton measures around 10 metres in length.
The excavation was led by world ichthyosaur expert Dr Dean Lomax and specialist palaeontological conservator Nigel Larkin.
Dr Dean Lomax, a palaeontologist and a Visiting Scientist affiliated with the University of Manchester, said: "It was an honour to lead the excavation. Britain is the birthplace of ichthyosaurs – their fossils have been unearthed here for over 200 years, with the first scientific dating back to Mary Anning and her discoveries along the Jurassic Coast. Despite the many ichthyosaur fossils found in Britain, it is remarkable to think that the Rutland ichthyosaur is the largest skeleton ever found in the UK. It is a truly unprecedented discovery and one of the greatest finds in British palaeontological history."
Credit: Leicestershire and Rutland Wildlife Trust