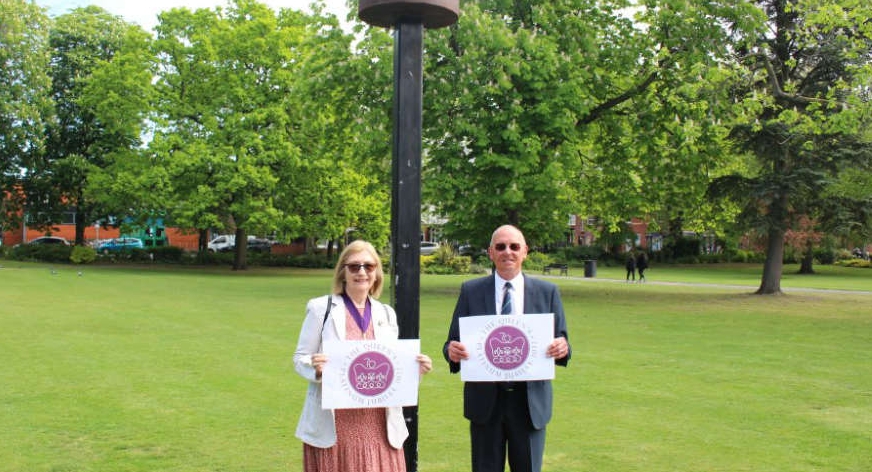 Image of Cllr Jenni Tillotson and Loughborough resident Stephen Hutchins in front of the beacon at Queen's Park, Loughborough
The Loughborough resident has spent all of his working life serving Her Majesty.
A winner has been chosen in a competition to find a local resident to join the Mayor of Charnwood in the beacon lighting ceremony in Queen's Park in Loughborough on June 2nd.
Charnwood Borough Council has been searching for a resident who was born in 1952 – the year of the Queen's accession to the throne.
The winner of the competition is Loughborough resident Stephen Hutchins who entered the competition after spending all of his working life serving Her Majesty.
Mr Hutchins said: "It is an honour to have been chosen to join the Mayor of Charnwood on such an important occasion.
"In my working life, I spent 22 years in the Army, where I finished my career at Garrets Hay Barracks in Woodhouse. I have lived in Loughborough since leaving the army in 1992.
"I also spent 18 years with the Leicester Constabulary as a custody officer, 10 of which I was based at Loughborough Police Station.
"I was born on Christmas Day in 1952, and like so many of us, Her Majesty the Queen has been a huge part of my life. I am very much looking forward to lighting the beacon and paying tribute to The Queen."
Councillor Jenni Tillotson, who is currently the Deputy Mayor and due to become Mayor later this month, said: "Her Majesty the Queen has been a hugely important figure in so many lives across the world, and I look forward to joining Mr Hutchins and many Charnwood residents in Queen's Park as we celebrate such a unique landmark in our country's history.
"We will be joining over 1,500 territories throughout the United Kingdom, Channel Islands, Isle of Man and UK Overseas Territories, and one in each of the capital cities of Commonwealth countries in recognition of The Queen's long and selfless service."
A heritage plaque to mark the Platinum Jubilee will be unveiled by the Mayor of Charnwood at 8 pm in Queen's Park, before the official lighting of the Beacon at approximately 9.45 pm.